BAN Mic Pre
The Baby Animal Neutral super clean wire with gain 60dB single channel mic pre kit based on the Graham Cohen (National Semiconductor Designer) mic pre used in various forms by SSL, Neve Mozart, Amek 9098, Fred Forsell but made to work on a single 48v power rail.The mic pre has 20k input impedance which is perfect for not loading ribbon microphones. The PCB can take several input transistor pair types as well as several normal dual DIP8 opamps or discrete 1.1" opamps with standard 990 / 2520 pinout. A DI kit can be added in seconds with no wiring except one flat ribbon cable. This kit is even easier to build as no power supply has to be built.
BAN Schematic
here
BAN Parts List
here
Notes & Errata
Note 1. The New 48v 520mA 25w MEPS SMPS external & 48v 315mA 15w internal SMPS power supplies under high capacitive and dc current power up surge can go into hiccup protection mode (power light will flick on and off) more easily than the old non MEPS ones so the below soft start mod is recommended for all new BA BAD BAN builds.
1. Do the soft start mod shown below. This leaves all parts fitted as normal but one track is cut and wire link added with #BD681 and #10k fitted. This gives 5 second soft start with no direct capacitance across the 48v SMPS and allows for the maximum possible BA BAD BAN combinations on one SMPS power supply. (#Zener is only needed as usual if opamp needs lower than 48v (+/-24v) rail.)
2. As always test each BA BAD BAN module on the 48v power one at a time without opamp fitted and test voltages and then with opamp fitted and test voltages to make sure the module is working properly. If one BA BAD BAN module puts the supply into hiccup mode there is a real fault.
3. While testing measure the voltage across the 10R resistor to see what current the BA BAD BAN module is drawing at idle (mA = V/10). Add up the total mA to check it is less than about 2/3rds of the specified current of the SMPS you are using to leave some headroom fro driving 600ohm loads.
4. Once all BA BAD BAN modules are tested to work correctly turn off and connect all the modules and power supply should powerup smoothly. If you are having problems email me with your exact configuration and which power supply you are using.
(Without mod each BA has 470uF and BAD abd BAN have 1000uF capacitance direct across the 48v rail which causes a short circuit for to long for the new MEPS SMPS)
BAN MEPS SMPS Soft start mod
BAN Alignment procedure
Adjust 10k trim pot for half voltage at IC1 out socket measured from 0v. (usually 24v if no BD681 reg used)
Adjust 1k BAL DC trim pot so there is no DC voltage across the gain pot 2 wires at its minimum gain setting (pot at 10k)
The BAN PCB can take several options for Q1 & Q2 transistors with no other components changes needed.
2,4 or 6 x BC550C
1 or 2 x 2SK389
1 x LM394 (TO5 or DIP8 package)
1 x MAT02
IC1 can be normal DIP8 OPA2604AP for electronic balanced out or JLM99v, Hybrid, 990,992,993,2520 etc with quasi balanced out without a output transformer or fully floating balanced out with 1:2 output transformer like JLM111DC.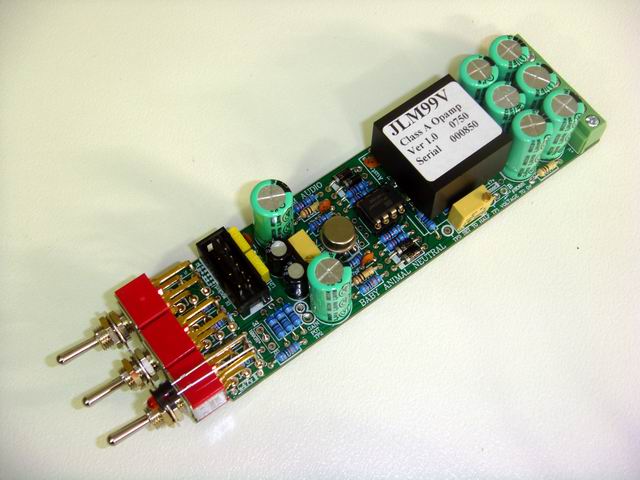 Standard resistor values for making a switched RGain Control
RGain Value
20dB = 33k
21dB = 18k
22dB = 10k
23dB = 7k5
24dB = 5k6
25dB = 4k3
26dB = 3k3
27dB = 2k7
28dB = 2k4
29dB = 2k
30dB = 1k8
31dB = 1k5
32dB = 1.2k
33dB = 1.1k
34dB = 910
35dB = 820
36dB = 680
37dB = 620
38dB = 510
39dB = 470
40dB = 390
41dB = 360
42dB = 300
43dB = 270
44dB = 240
45db = 220
46dB = 180
47dB = 160
48dB = 150
49dB = 120
50dB = 100
51dB = 91
52dB = 82
53dB = 68
54dB = 56
55dB = 47
56dB = 43
57dB = 33
58dB = 27
59dB = 22
60dB = 18
61dB = 15
62dB = 10
63dB = 8.2
64dB = 4.7
65dB = 2.2
66dB = 0