VU
SEW Meter with Orange Lamp (Flashstar Meter is very similair)
Blue LED kit and below how to fit it to the SEW Meter
(LEDs are now 2 x 5 diffused rectangle type)
Blue LED kit assembled (A is the long leg of the LED)
The Blue led kit runs on 12v without a resistor in series.
Positive for the LED is on same side as the meter positive.
The LED is the 2 outside terminals on the back of the meter.
If you want to run the LED on more volts you will need to add a series resistor.
Use this formula R = (V - 12) / 0.02.
SEW Meter without Bezel
SEW Meter without Clear cover
SEW Meter orange lamp
SEW Meter cut orange lamp off leaving wire legs behind
Fold the two cut lamp wires downwards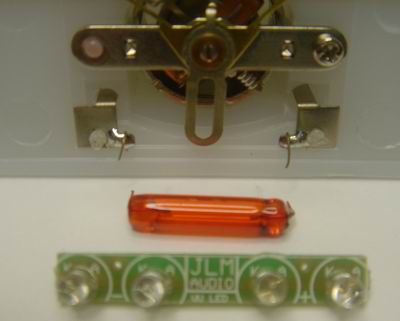 Slide blue lamp PCB on to the 2 wires and solder on
Blue LED Kit fitted to SEW meter
Blue LED kit running on 12v
SEW Meter Glow with Blue LED kit fitted