JLM Baby Animal Mic Pre kits building info below and Reviews can be found here
BA PCB (Baby Animal ) below. PCB is 36mm (1.4") x 120mm (4.7")
BAD PCB (Baby Animal Dual) below.
Links to some of the full Forum threads
The terminal blocks have tongue and grooves which lock them together on there sides. So 2 x 2 way can make the 4way and 3 x 3 way can make the 9way. If you don't join them together they will sit uneven on the PCB.
Note and Errata on BA & BAD:
BA PCB with the date 09/07 has 2 x 0.1uF caps marked on it only one needs to be fitted. One of the 0.1uF is where CL was on the old BA PCB but is not CL. There is no CL position on the PCB so the CL cap needs to be mounted under the PCB across RL on this version of the PCB.
Normal 8 pin DIP IC sockets for OPA2604AP & NE5532AP etc can be left on the PCB if PCB pins are used for the JLM99V
Power supply
Opamp fitted to baby animal PCB
* 48v phantom power regulator
# 33v to 47v opamp regulator
voltage
* zener
* 10k
* BD681
# zener
# 10k
# BD681
62v
JLM99v
47v
FITTED
FITTED
NF
NF
NF
62v
Hybrid, OPA2604, 990C, 992 , 993
47v
FITTED
FITTED
47v
FITTED
FITTED
62v
NE5532AP
47v
FITTED
FITTED
36v
FITTED
FITTED
62v
2520, 1731, LM833
47v
FITTED
FITTED
33v
FITTED
FITTED
48v
JLM99v, Hybrid, OPA2604, 990C, 992 , 993
NF
NF
NF
NF
NF
NF
48v
NE5532AP
NF
NF
NF
36v
FITTED
FITTED
48v
2520, 1731, LM833
NF
NF
NF
33v
FITTED
FITTED
When regulators are not fitted a wire strap is needed between the BD681 Emitter (E on PCB) and Collector (BD681 centre pad)
If you can not open the PDF's below you will need Acrobat reader 7.0.
Input Transformers the BABY Animal PCB can take directly are
JLM1:4 (comes with 2 x 3mm bolts and 2 x plastic bushes which hold the transformer 1mm off the PCB)
OEP A262A2E, A262A3E, A262A6E, A262A7E, A262A3C
Lundahl LL1538, LL1538XL, LL1576, LL1577, LL1578XL.
Jensen JT-11K8-APC, JT-110K-HPC, JT-115-EPC, JT-MB-CPCA
Beyer 8mm threaded bolt types
Cinemag CM-75101APC, CMMI-8-PCA
Remember to mount all transformers with a gap of about 1mm under them so any metal shields do NOT short out any of the PCB Pads.

Transformer
Ratio
Jumper
Transformer Gain
RL Fixed Impedance
CL Fixed
Impedance
RL Variable impedance
CL Variable Impedance
RZ
CZ
RPAD
RG
Total Gain
JLM14
1:4
NF
12dB
10k
220pF
2k2 + 50k pot
390 to 440pF
NF
NF
120R
68R
61dB
OEP262A3C
1:6.45
LOW
17dB
27k
220pF
10k + 100k pot
390 to 440pF
NF
NF
120R
68R
66dB
OEP262A3C
1:12.9
HIGH
23dB
100k
220pF
not tested
390 to 440pF
NF
NF
120R
68R
72dB
LL1538 & XL
1:2.5
LOW
9dB
100k
220pF
3.9k + 50k pot
390 to 440pF
NF
NF
120R
68R
57dB
LL1538 & XL
1:5
HIGH
15dB
100k
220pF
15k + 100k pot
390 to 440pF
NF
NF
120R
68R
64dB
LL1578 & XL
1:5
LOW
15dB
100k
220pF
15k + 100k pot
390 to 440pF
NF
NF
120R
68R
64dB
LL1578 & XL
1:10
HIGH
21dB
220k
220pF
60k + 200k pot
390 to 440pF
NF
NF
120R
68R
70dB
To load the input for 50ohm mics (150ohm load) use low ratio parts but fit ratio jumpers as HIGH NF = Not Fitted to PCB
To make CL = 440pF all BA kits now have 2 x 220pF (One 220pF can be fitted to CL and the other to CZ with a wire link across RZ.

Total gain is for dip8 dual opamp IC's and 1.1" opamps with 1:2 output transformer. If using 1.1" opamps with no output transformers minus 6dB from total shown.
Adjusting voltage of large 52v 2.2A power supply
The power supply come set to roughly 52v. With the fan set to run all the time.
First check that the 115v/230v switch is set to match your mains voltage
To adjust down to 48v or up to 62v a trim pot can be seen through the fan slots and can be adjusted with a small screwdriver as shown in the below photo.
If you go over the 62v the over volts protection may cut in which will require you to turn the trim pot back a bit and turn off the power supply and let it discharge and then turn it back on again to finish setting the voltage. Use a insulated screwdriver and make sure it is in the plastic trim pot slot before turning on the power supply.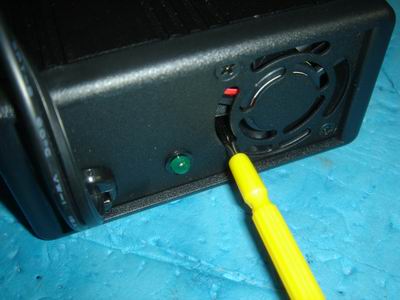 If you are running less than about 16 baby Animals from this power supply you can unplug the fan from the internal PCB if you don't want any background noise.
First make sure the power supply is unplugged from the mains power and full discharged
Slip a flat screwdriver under the plastic end cover as shown
Until cover pops forward and screws are exposed.
Once the 2 screws are removed the Fan plug and voltage trim pot will be visible.
Unplug the Fan plug and reassemble.
It is worth now checking the voltage has not changed from the volts you set it to earlier.
Just for clarity
The only thing the Deane Jensen 990 Design and mine share is the pinout configuration. The JLM99V is more like a Neve Class A Preamp on major Steroids. It is a pure path device with the signal path only travelling through three transistor junctions. It has gain limited to about 60dB with no feedback applied. When setup right the THD with feedback is 0.005% at normal operating levels heading up to 0.5% 2nd Harmonic as its output swing reaches closer to the power rails. It has a 1v DC offset on the output due to the -input of the opamp being an emitter input. It runs best on +/-34v but can run on +/-24v.

JLM111DC Output transformer.
Can be used for Neve LO1166 or API 2503 type DIY projects. The transformer is DC gapped and has 3 identical 150ohm windings that are trifilar wound. So can use as 1:1:1 or 1:2 or 2:1 applications. It is physically the same size as the LO1166 except the the top terminal plate is narrower so it will fit on its side in 1 unit high racks which have a 38mm internal height. Each winding has its connections opposite each other and one side is marked Red+ and the other Yellow-.
For 1:1 use any winding for primary and any other winding for secondary.
For 1:2 you could use winding 1 for primary and wire +2 to -3 and take +3 & -2 as the secondary.