JLM AUDIO Langevin AM16 Rack Case
Features
Custom AM16 1 unit high Rack Case with New Laser Printing. Laser turns black anodizing white so marking can not be scratched off. Automatic 85v to 265v Switchmode power supply for +24v & 48v rails. IEC removable power cord and Gold Neutrik XLR inputs and outputs on rear panel 1 to 4 AM16 can be fitted to rack and laser writing changed to match. Each Mic Pre has switchable 48v, Phase, High Gain and 45dB variable input PAD pot (Marked as output on this version).

JLM AUDIO MCI Channel Rack Case
Features
Cut down MCI 400 Channel strip in 1 unit high Rack Case with New Laser Printed front panel. Channel 4 Mic Pre and EQ are the original from the Channel Strip but Mic Pre 1 to 3 are made by using the spare MCI opamps still on the main MCI PCB and our JLM Mini Transformers to make three extra Mic Pre amps with 60dB of gain and 48v, PAD, PHASE Switches where added to all four Mic Pre's. The unit is run from a external 24vac 1amp transformer which generates +/-24v and 48v internally.
JLM AUDIO Racked AWA Dual Channel Strips
Features
Road Case with 2 pairs of AWA Mic Pre and EQ. These are like AWA versions of the 1073 Neve but running on a higher voltage rail. These modules are rare. The input transformers are so large that they are the full width of the dual module which is obviously why they are made in pairs. We have added the output faders which work as 10dB trims normally or full fade to -70dB when the pot has its inbuilt switch pulled to the out position. Unit runs from +30v & 48v Switchmode power supply. These things sound great and have fatter low end that the Neve 1073. The EQ is very good with only the treble control needing its frequency shifted to make it more useable. To get these modules working properly they need a lot of recapping and switch & pot cleaning and replacing. Also the modules are only unbalanced out with the external amp PCB and external Output Transformer. We use one of our unbalance to balanced modules with a new laser cut rear panel with XLR in & outs and TRS insert which screw straight on to the rear of the module.

JLM AUDIO Pultec Road Case
Features
Custom Road Case with mounted Micro 240v to 110v stepdown transformer and XLR & TRS inputs and outputs. Pultec had tube rectifier go short circuit and destroyed the main filter capacitors which were internally replaced. Replaced all tubes due to micro phonics and loss of output of 12AU7. Used 5814 Military Spec version of 12AU7 tube. Cleaned noisy original pots by opening rear metal caps and using CAIG pot cleaner and clean switches with CAIG switch cleaner. Unit tested as good as new with Flat 10Hz to 40kHz at -1dB. THD less than 0.05% and Signal to noise greater than 90dB. Road Case was kept as compact and light as possible as the Pultec is for hire. Front panel came up like new with a real mirror finish but took a lot of cleaning work due to very old paper tape stuck on the front that had gone rock hard.
JLM Audio 1064 Neve Rack
Features
Fits 2 x Neve 1064 Channels and has laser etched and colour filled labelling that has been turned 90 degrees to be right way up for rack mounting & replacing the original Neve front panel.
Internally Switchable 110v to 240v Switch Mode Regulated 24v & 48v Power Supply.
Output Faders with pull switches (6dB of trim in normal position & full fade to infinity in pulled out position).
48v Phantom Power Switch and Red LED per channel.
Mains Power Switch and Green LED.
Gold Neutrik XLR Mic, Line inputs & outputs on rear panel.
Jack Insert point Pre Output fader on rear panel.
Removable IEC Power Lead with fuse holder on rear panel.
3 Rack Unit high in Blue Grey Neve Coloured Front.
2 Sets of these were made for Rocking Horse Studios at Byron Bay.
JLM Audio 1272 Neve Rack
Features
Fits 8 x Neve 1272 Line Amps converted to 60 dB Mic Pre's.
Fully Switch Mode Regulated 24v & 48v Power Supply.
Internally Switchable 110v to 240v Switch Mode Power Supply.
Illuminated 48v Phantom Power Switch.
Illuminated Mains Power Switch.
Gold Neutrik XLR inputs & outputs on rear.
Removable IEC Power Lead.
3 Rack Unit high in Black Aluminium.
3 Sets of these were made for Rocking Horse Studios at Byron Bay.
JLM Audio Norelco & ADM Custom Rack
Features
Fitted 6 Norelco (Philips) Mic Pres & ADM780 Mic Line Pre into 2 unit high rack case. (Added Second ADM Module later)
Fully Recapped Norelco and reduced gain to 42dB and added JLM Micro DI Active Balanced Outputs with 18dB of gain.
This gets around the +6dBM clipping point of these modules and now sets the output clipping point to +24dBM.
Also mounted a LED in the test jacks on the front of Norelco to show when phantom power is switched ON.
Used Mic 1,off,2 Switch for phantom Power Switch on Norelco.
ADM780 had blown Transistors which we repaired.
Built High Current +/-20v ,24v & 48v Power supply with external power transformer pack.
Gold Neutrik XLR for Ins & Outs.
This custom unit was made for Matthew Redlich.
hey joe
Just thought id send you some drums done with the norelco preamps
kick - shure beta 52 - a little waves eq and gateing
snare - shure 565 unisphere also though my inductor filter box - tlaudio eq
hihat - beyer m69 - HPF
it was all run thru waves RCL and cakewalk tape sim
sounds pretty darn good I think!
regards,
matt r
JLM Audio Quad Eight Custom 2 unit high Rack
Features
Fitted 2 QE line input modules in 2 unit rack case by cutting of fader section.
Repaired modules changing faulty caps mainly.
Added JLM input transformer and rewired as mic pre input with 6 x 5 dB steps (25dB to 50dB plus 10dB in output = 60dB).
Added Input 25dB Pad Switch (black toggle) and Phantom Power Switch (red toggle).
Reverb send is master output going to separate Quad Eight output card wired with 10dB of gain.
Built High Current +/-28v ,24v & 48v Power supply with external power transformer pack.
Gold Neutrik XLR for Ins & Outs and pre fader insert jack on each channel.
This custom unit was made for Brendan Gallagher from Sydney band Karma County.
Hey Joe (there's a song in there),
Pres are fab. Love the top end, especially on guitars. Have just finished Lyall Adonis' debut album and I really put them through their paces. Some string sessions at my place with a pair of Oktava M012a condensor mics and piano recordings with same set up. I insert my TLA stereo valve compressor across it and it sounds fab. Used McCormack's Line 6 combo stereo direct into pres for some e/guitar tracks and that's when you hear some classic 70s guitar tone. You really get back what you put in. They're very true with that extra something. Very flexible gain structure as well. The line level pad is great for loading in samples and stuff from CDs and the hi gain is excellent for mics like my Sennheiser MD441U3 which is quiet as a ribbon mic. I did all the vocals with a 50s Neumann U-47 (the Sinatra one) and no EQ. Beautiful, warm as toast. I've got the pres and compressor in a roadcase and I've been taking them into studios, very portable. I dug out a whole lot of 70s drum loops I have on file (Stevie Wonder, Al Green, Shuggy Otis etc) and tweaked them through Q8s for a bit of sparkle and re-laid them on my portable DAT. I use 'em a lot in my solo shows and now they sound more THERE! Will try and send photo units in case.
Brendan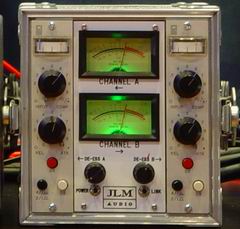 JLM Audio Quad Eight Custom Road Case Channels and Compressors
Features
Fitted two Quad Eight Channels into one of our shielded custom made road cases with removable front and back lids.
Fully repaired Quad Eights to new spec.
We were asked to make them as compact as possible so the fader section was cut off.
Added JLM 2:1 and 1:2 line input and output Transformers and passive output attenuators because no output cards were supplied.
Converted PFL switch to Phantom Power switch on each channel.
Fitted 10mm LEDs to missing foldback pots position as +/-28v Power Rail Indicators.
Built High Current +/-28v & 48v Power Supply with external power transformer pack.
2 sets of the channels & 1 set of the compressors were made for Tim Whitten (Tim Recorded Albums for Powderfinger, FOC, Clouds, Art of Fighting, Karma County)
JLM Audio Kaoss Pad Control Box
Features
Made for Brisbane band George this stomp box sends either Tyrone, Katie or Both Vocals to a Kaoss Pad.
Vocals are sent to the Kaoss left line input through JLM 1:4 stepup transformers as the mic in on the back of the kaoss was to noisy.
When a vocal is assigned by a stomp switch to the kaoss input a blue laser led lights under the person name.
The centre stomp switch mutes the Kaoss outputs of the two on board transformer DI's that convert the kaoss unbalanced outputs to mic level balanced outs.
A Red LED is lite while the Kaoss outputs are on to the Front of House Desk.
All power for LED's is derived from Phantom Power sent to the on board transformer DI's so no batteries are required at all !
All balanced output levels where set to be the same mic level for easy Front of House Mixer setup.
All switching is noiseless.