Moderator: Joe Malone
Here's a BA i've built for a friend, 99v 1:4 JLM input transformer.
Great pre's, highly recommended.
BL
[/img]
---
---
---
---
Site Admin
Posts: 1691
Joined: Wed Jan 24, 2007 11:35 pm
Location: Brisbane, Australia
Contact:
These are a couple of BA1's we have made in the Hammond cases.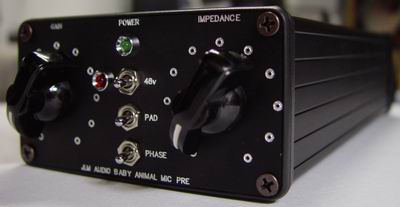 I like these cases but they are not cheap and the screws strip easy and come loose so we change them to longer different type ones to keep the box together tightly.
Joe
JLM Audio
Capturing Audio without Injury
---
---
---
I looked through the Hammond site and saw the case. I also saw that they had some extruded aluminum cases that are closer to what I want to do, something like 6"x8"x2". Those are available for $25, not really cheap but I don't plan on doing too much gear (just, you know, a mixer, some eqs, a couple of compressors, a few routing boxes, maybe some a-d-a converters, a lamborghini...), it's still cheaper than buying stuff pre-made off-the-shelf. IIRC my current Baby Animal build uses one of their plastic cases. One thing that's cool about the extruded aluminum is they also have plastic faceplates, so you can try out a few designs before committing to metal, or if you don't have the tools you still get a metal chassis with plastic endcaps that are easier to work with. Anyways, I really like the look of both of these builds and the extruded aluminum adds a nice utilitarian touch (like something you'd find in the back of a minimog). I was thinking these could also look nice mounted in the same kind of boxes that Radial uses (too bad those aren't available for DIY).
---
Site Admin
Posts: 1691
Joined: Wed Jan 24, 2007 11:35 pm
Location: Brisbane, Australia
Contact:
How smokin does that look! Don't happen to have the files for the engraving handy?
Yes what format would you like the engraving file in?
I do like the push button switch on Joe's - is that switch illuminating, Joe?
Yes it is the same Red led switch used in the HAL project prototype box.
Joe
JLM Audio
Capturing Audio without Injury
---
NICE!

did you engrave that in-house joe? i seem to remember matt saying something about you getting a milling machine... CNC?

engraving does look very sweet - often looks better than screen printing, in my opinion...

BTW are you still going to do the the half-rack cases? that would be very nice...

haima
---