JLM MONO mic pre is a compact tough transformer balanced input mic pre with electronic balanced output which can run on 2 x 9v Normal Alkaline or Rechargable NiMH batteries and provide 18v phantom power which will run most modern condensor microphones or you can use our 48v 520mA SMPS which can charge NiMH batteries at the same time as running the mic pre with 48v phantom power and greater headroom. One 48v SMPS can run and charge 8 MONO Mic pres easy. As usual the same large variety of input transformers can be used as Baby Animal and Baby Animal Dual. The pre is made to run one Dual OPA2604AP opamp on 18v battery power up to 48v SMPS power but can have 2 x JLM99v and compatable footprint discrete opamps fitted with no component changes but the battery power option is then lost. Kit comes with a full laser cut diecast aluminium box and black epoxy baked screenprinted top.
Internal single sided PCB fitted with components for electronic training version for JMC Academy and TAFE Colleges.
Parts List MONO Training Version
MONO Schematic
MONO Upgrade options on JLM web shop
(Main upgrade the training version needs is the input transformer to get a real top end mic pre & 48v SMPS for true 48v phantom power and +28dBM huge output level)
JLM14 Input transformer
(Great for drums, bass, samples and general very good all rounder)
OEP262A3C/VTX Input transformer
(Great Vocals, Acoustic Instruments. Bit more coloured as used in our Dual99v mic pre)
JLM99v discrete opamp
(Fatter low end and silky high end then OPA or Hybrid)
6 Sockets to plug in JLM99v etc
48v SMPS power supply
(Can run & charge 8 x MONO mic pre at one time)
2 x 9v NiMH batteries
1. Install all resistors in there correct locations using chart to the left or better still by using a multimeter with no leads fitted and bending the legs of the resistor and putting them in the meter sockets to double check you have the right value before putting it into the PCB.
Red Transformer Training Version RPad = 120R, RGain = 22R Rload = Not Fitted, RZobel = LINK, Czobel = 390pF.
(If you are thinking of upgrading your college version later to one of the better transformer versions below it is fine to fit the below values now with the Red transformer. Rload will not affect the red transformer and the larger Rgain will just give less gain until the upgraded transformer is fitted.
JLM14 Transformer fitted fitted to Training Version MONO RPad = 120R, RGain = 68R Rload = 10k, RZobel = LINK, Czobel = 390pF.
JLM14 Transformer fitted fitted to Normal Version MONO RPad = 120R, RGain = 68R Rload = 2k2, RZobel = LINK, Czobel = 390pF. Impedance pot 50k log
NOTE OEP/VTX transformers need to have the shield pin folded over and a cut off component leg soldered to it so the transformer can go on turned 180 degrees.
Primary should be closest to the XLR's. Extended shield pin can be solder to any of the 3 large holes under the transformer

OEP 262A3C / VTX Transformer fitted to Training Version MONO RPad = 120R, RGain = 68R Rload = 27k, RZobel = LINK, Czobel = 390pF.
OEP 262A3C / VTX Transformer fitted to Normal Version MONO RPad = 120R, RGain = 68R Rload = 10k, RZobel = LINK, Czobel = 390pF. Impedance pot 100k log
(The MONO PCB has a impedance pot option which is not used in the Training kits so when fitting RLoad the small white line between 2 holes at one end of RLoad needs to be jumper over with a resistor leg cut off. See near bottom of this post)
Fit all resistors before soldering them as this can also help check that you haven't put a resistor in the wrong place.
2. Install all diodes with there Grey/White/Black strip band lining up white white band on the PCB.
3. Once all resistors and diodes are fitted solder them in with the PCB held upside down on a flat surface and then cut there legs just flush above the solder joint.
4. Fit IC Socket with the U aligned with the overlay. Then fit the 100pF cap either way around.
5. Place the 6 x 470uF caps on the PCB with there long leg fitted in the hole marked + which is a square pad under the PCB.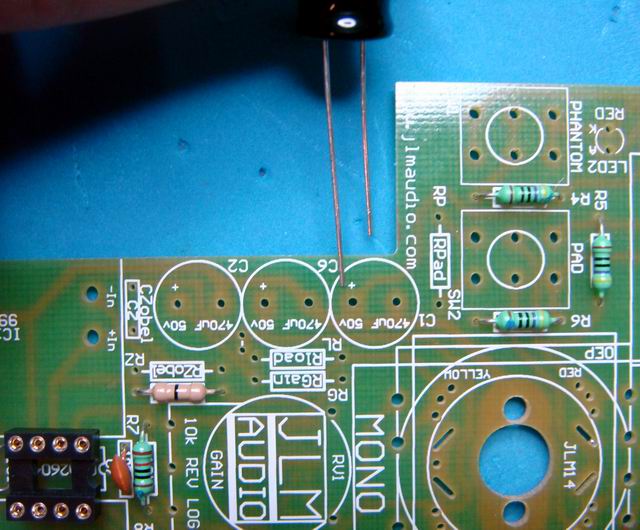 6. Solder in all 6 caps which should all be facing the same direction when finished.
7. Fit transformer to the PCB. No gap needs to be left for any of the transformers as the PCB is single sided. Red transformer shown below. JLM14 bolts to PCB and the four colours of its wires are marked on the top of the PCB. Black is not connected to anything. OEP transformer only fits one way on the PCB making it easy.
8. Solder in the transformer wires and then fit the XLR's and solder them in.
9. Push in all toggles with there U notch away from the XLR's. Make sure they are sitting flat and level to the PCB.
10. With the XLR's fitted you can do a test fit into the case and check the 4 toggles switch up & down in there slots ok with only one centre pad soldered encase the toggle needs to be moved slightly before soldering all the switch legs.
(Yellow Circle - Watch out when cutting of soldered legs that they are actually soldered otherwise they can be hard to fault find later)
11. Extend the DC connector legs with 3 cut off diode legs as shown. The diode legs are thicker and stronger than the resistor legs.
12. The DC connector center leg actually bends across the middle so the connector goes into the PCB 180 degrees to what you might have first thought.
13. The 3 LED's are placed into the positions long leg to A. Do not swap the LED colours around at all as this will affect the charge circuit.
14. LED's in positon but will not be soldered until fitted to the case with the gain pot to get the right height.
15. Use long nose pliers to bend the 3 pot legs 90 degrees.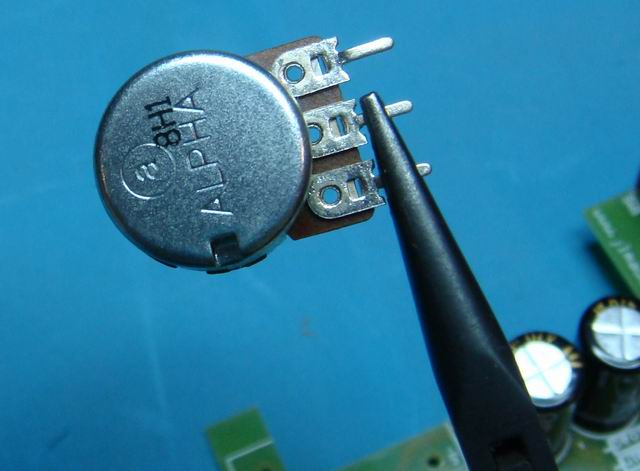 16. Cut off the locate tag on pot with sidecutters.
17. Extend the legs by using the full leg length from the two spare zero ohm links in the kit.
18. Pot sitting in PCB ready to be placed upside down on top of the case to get lengths right and then LED's, Gain pot, DC connector and LEDs can all be soldered.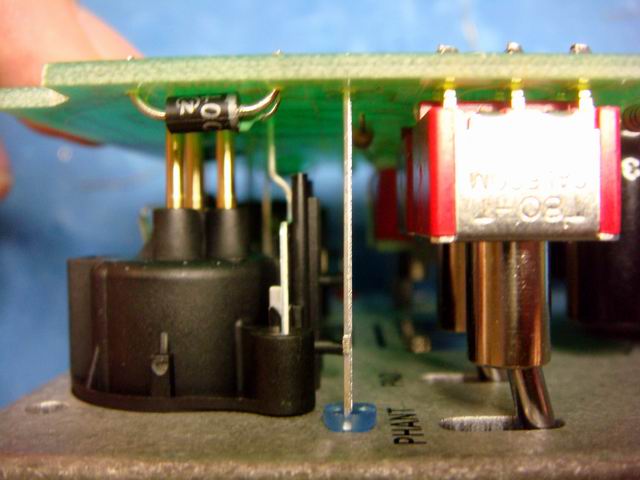 19.Cut the Battery leads to length. Note positive and negative are reversed on each side.
20. Fitting the Battery leads.
21. Leave these solder pads unsoldered for normal 9v batteries.
Only solder together when using rechargeable NiMH batteries.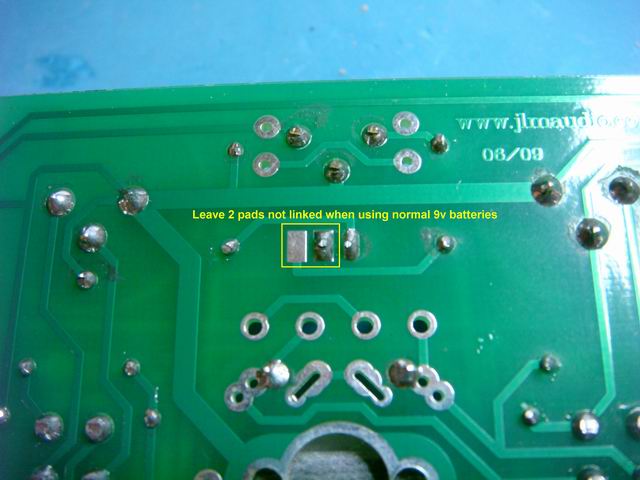 22. MONO training version fully built.
23. Fit OPA2604AP IC into the DIP socket with its U aligned with the IC socket upwards as shown below.
Note extra 100pF cap between out and -in on the second opamp side that the OPA2604AP was found to need to work at its best. Fit as shown on all MONO kits using any opamp type.
Ready to test in the open with 2 x 9v batteries or 48v SMPS.
If testing without batteries fitted put some tape on the 9v clips to stop them shorting to anything.
Please make sure you have your monitors or headphones turned down when power on or off on the MONO mic pre to save your ears
24. Z pot wiring on MONO normal version.
Shows Z pot wiring and MONO with 2 x 99v Fitted.
NOTE When fitting JLM99V to MONO do NOT fit C7 or 100pF across second 99v -in to out as we have found this makes the MONO pre more stable and less prone to oscillation when using the 99V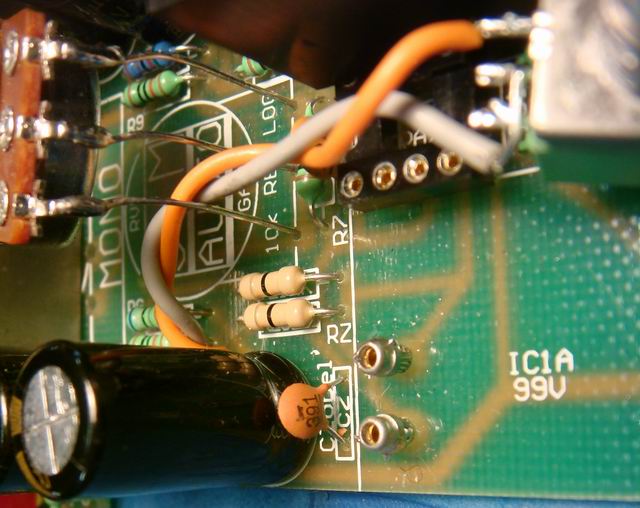 25. Shows the stick on black rubber strip for holding in the 9v batteries firmly.
26. Shows plastic protective sheet used to stop the 3 points in red circles from touching the lip of the diecast bottom panel.
Make sure all soldered pad joints especially the ones in the red circles are cut short and the plastic sheet need to be a tight fit in the back of the case.
New Lexan stick on front panel info for 2010 training version
Black edge of slots and XLR holes with black permanent pen to remove shine from edges.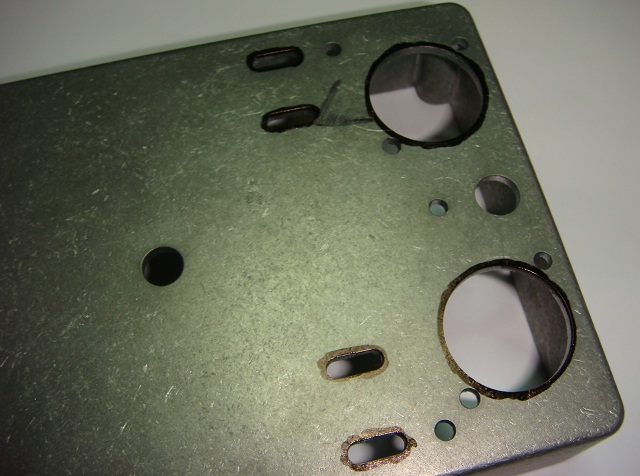 The leds on the Lexan panel are covered so must stop flush with the top panel of the case.
Best to put a kink in the legs so the leds can be push down flush.
Fit PCB to case and do a test fit of the lexan panel before removing the backing to check best alignment.
Remove sticker backing
Flex lexan panel so it can be aligned by the DC and Gain pot holes.
Sticker can be removed if not pressed hard down on.
(Sticker can be fitted with the case empty or with the PCB fitted so DC connector and Gain pot can help to align the sticker)
(Note sticker holes for DC connector and Gain pot are 0.5mm larger so the sticker can still be moved around slightly for better overall alignment)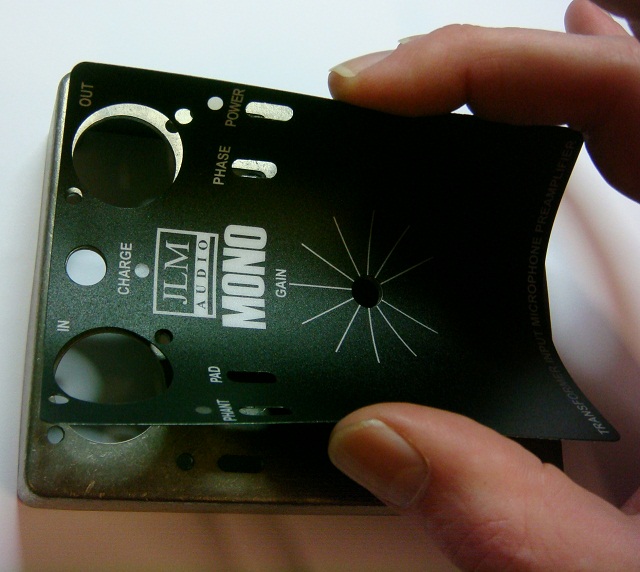 Once alignment is correct the sticker can be pressed down hard from the center out.
After about 24 to 48 hours the glue on the sticker will bond with the case making it very hard to remove.